If you are looking for Dublin preschools for your child, check out Learn And Play Montessori in Dublin on the review sites such as Google and Yelp. You will find that we have excellent reviews and are rated by many as the BEST Dublin preschool, bar none.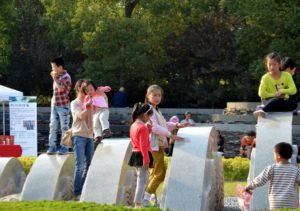 However, when you go online to do the checks, just make certain that you are searching for Dublin preschools, California, and not Dublin preschools, Ireland, because otherwise you could get very confused!
The Montessori method of teaching is not strictly teaching, in the sense that every child has a choice. Each child is unique, and it is a way of learning rather than teaching because there is a huge choice of different materials for each child to choose from, so they make their own selection based on what they find interesting and what they want to learn more about. There is none of this business of sitting on the floor or at a desk and listening to a teacher talking. Our children learn by doing, not by listening.
In any given classroom, of which there are five light and airy ones at Learn And Play Montessori in Dublin, almost every one of the children will be doing something different from the next child at any given moment. This means that there is no sense of competition and trying to be "better" than their peers. Each child progresses with what he is doing at his own pace, so the slower learners have no reason to feel that they are not "good enough", and the quicker learners don't get held back but can just carry on to the next thing that they want to learn about. This is important, because the children are learning about something that they find interesting, so they naturally want to learn more about it.
Montessori Children Tend To Do Better
This is one of the reasons that, as they progress through school, Montessori children tend to do better than their peers who have been brought up under the traditional methods of teaching.
The Montessori method develops the whole personality of the child and not simply his intellectual abilities, but his powers of concentration and deliberation, using his own initiative and independent choice. He is learning in a social community of which he is a part, and therefore learns to respect the rights of others, and also learns to help others. Our classes can cover children of up to three years of different ages, and we find that the older children are only too willing to help the younger ones when they can.
We believe that this is the way to have a child grow up to be a decent and respectful member of society.