Dublin is one of the best places to live and work in the Bay Area and at Dublin Montessori we know that parents want the BEST for their kids. When they start to research preschool options, they very quickly discover the advantages of Montessori.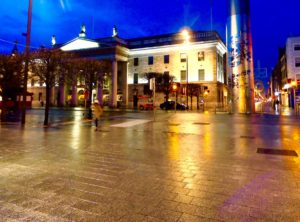 Our Dublin Montessori campus is on Silvergate Drive which is ideally suited for parents who commute up and down the I680 and along the 580. So it's handy for parents in San Ramon, Pleasanton, Castro Valley, Livermore, Brookshire, Asco, Verona, and Sunol. We actually open at 7.00 am and don't close until 6.30 pm, so we are convenient whatever your hours of work happen to be. We provide a year-round Montessori program for children from the ages of two to six. The campus has five beautiful large classrooms which have extended windows to let in as much natural light as possible which enhances the academic environment. There is also a playground near the back of the school which is gated and secure and where the children can play and learn about Mother Nature.
Each Child Makes His Own Choices
Each classroom has a wealth of Montessori materials for the children to explore. With the Montessori method of learning, every child chooses what to learn about for himself which is what makes learning fun rather than something that the children are told that they have to do. Instead of sitting down and listening to a teacher talking, each child uses his five senses to find out about something that interests him, and because it is of interest, he wants to learn more. This sets each child off on a lifetime journey of exploration because they are always wanting to learn more.
Your child is unique and at Dublin Montessori our program is designed in such a way that every child can learn and explore at his own pace. There is no pressure to achieve a certain target because there are no targets. The teachers watch each child and when he is ready to explore further the teacher will introduce more Montessori materials with which he can experiment.
Because each child is learning about something different from the next child there is no sense of competition. In fact, the opposite is true because there are different age ranges in each class, and the older children help the younger ones when they can. This introduces a sense of social responsibility in the older children and by showing a younger one how to do something it underscores the learning of the older child at the same time.
At Learn And Play Montessori we encourage parents to come along and take a guided tour of the classrooms and see for yourselves just how well our children are developing.