Dublin, in California is named after – Dublin in Ireland! OK, no prizes for guessing that, but did you know that Dublin is the second fastest growing city in California? At the 2010 census the population was 46,000, and by last year it had grown to 61,000. That's an increase of a third in just seven years and is only just behind Santa Clarita.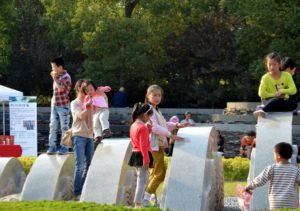 Dublin also has one of the best St. Patrick's Day celebrations on the West Coast. It's more like St. Patrick's Weekend with a pancake breakfast sponsored by the firefighters, and tours of the firehouse which the kids love. There is a two-day festival with a 5km fun run (or walk, if you can't run) and a parade of floats and bands sponsored by the Dublin Hosts Lions Club. There is food, games, kiddies' rides, and arts and crafts all weekend.
If you have your own kiddies and you are looking for the best Dublin, California, preschools, then you should look at Montessori. And one of the best Montessori Dublin, California, preschools is Learn And Play Montessori at 11900 Silvergate Drive. You really need to come over and take a tour of the campus because at the rate the city population is growing, we can get filled up very fast.
Very Easily Accessible
Of course, Dublin is on the junction of the I580 and I680 and Silvergate Drive is just off of the 580 junction by the Stoneridge Shopping Center so is very accessible for commuters. We open from 7.00am to 6.30pm which is also great for commuters as you can drop your child off on the way to work and collect him or her again on the way back. Our Montessori program is open to children from the ages of 2 to 6 years old and is a year-round program: we are rated as one of the best Dublin, California preschools, and in the top Montessori schools in particular, as you will see from our reviews that parents have kindly left.
Learn And Play Montessori is situated in a state-of-the-art building and has 5 light and airy classrooms with specially extended windows so that the children can move around freely and explore all the stunning Montessori material that we have in as much natural light as possible, which makes for a welcoming environment.
The Montessori method allows the child to choose what to learn and how to do it, and the result is that the children learn because they very soon love to learn. They are enjoying learning instead of having to sit and listen to a teacher telling them something that may not interest them. We welcome parents for a campus tour, and we provide tours from Monday through Friday from 9.30am to 10.30am when walk-ins are welcome. Come along over and see why we are rated in the top Dublin, California, preschools.