If your little one is getting to the age where he or she is ready for preschool, you should check out Learn and Play Montessori in Dublin. Certainly, Dublin, California, is not the biggest city in the Bay Area, but there are quite a few preschool options, and we know that we are one of the best Dublin Montessori programs.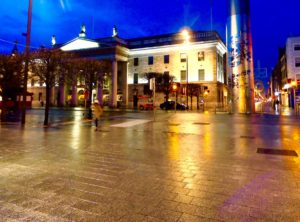 However, take a tour of the Montessori programs in Dublin and find the best one for you and your child.
At Learn And Play Montessori in Dublin we are ideally situated for commuters on the I680 and the 580 and we are just off of San Ramon Blvd. So whether you live in Dublin itself, or in Pleasanton, San Ramon, Castro Valley, or Livermore, we are within easy reach. What's more, we open at 7.00 am and don't close until 6.30 pm which makes it a simple matter to drop your child off on the way to work and collect him again afterwards. We take children from the ages of 2 up to 6 years old and provide a year-round program.
Large Bright Classrooms
The Learn And Play Montessori Dublin preschool has five large and bright classrooms which are filled with top quality Montessori materials from which each child can select the things which interest him. The campus was designed to have a lot of space so that the children can move around and find materials to explore. The windows were purposely enlarged so that we get as much natural light into the classrooms as possible. There is also a large outdoor playground near the back of the school which is gated and provides a safe environment for the children to play and learn in.
Our Dublin Montessori programs work very well indeed because the children learn by doing rather than sitting listening to a teacher talking. Furthermore, because the child chooses what to learn he is interested in what he is doing so he will inquire further and learn more because he WANTS to learn rather than being told what to learn.
You may remember from your own schooling that some of the classes that you had to attend were boring. Nonetheless you had to learn the subject, but you probably didn't do very well at them. Other subjects you probably enjoyed, so you were happy doing those and would have done well at them. In the Montessori method, the child doesn't learn things which are boring, only the ones that he likes, which is one reason why the children learn faster.
So if you are looking for preschool, come and take a tour of our Dublin Montessori programs at Learn And Play Montessori.