Well, now you've really gone and done it. You waited until September and you still haven't enrolled your littler wunderkid in a best-in-class Dublin preschool.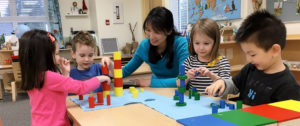 Oops!! Well, fortunately we still have openings in Dublin as of this writing, so please reach out to us IMMEDIATELY.
But whatever you do, don't leave it. We are one of the few Dublin preschool options still available because all the public preschool places have been taken. That's because the public preschools are free, so lots of people take them for that reason.
However, along with that come some disadvantages, not the least of which is the opening hours. Possibly you are a parent who has a private income and doesn't need to work, so the fact that the public preschool hours are so short doesn't matter. But if you are a working parent, as so many are, you have to drop your child off, go to work, and come back after work to collect him. You can't do that if the school only opens at 9.00 am and closes at 2.30 pm, if you have to be at work by 8.30 am and don't finish until 5.00 pm.
Then there's the question of the long summer holiday close down. What are you going to do with your child during all that time? Furthermore, how much will he learn if he's away from school for three months? Not a lot.
The Best Of Your Options Is Learn And Play Montessori
This is why the best of your Dublin preschool options is Learn And Play Montessori. We are open at 7.00 am and don't close until 6.30 pm, and what's more, we stay open all year round. None of this three-month shutdown in the summer for us.
Not only that, we use the Montessori method of learning. This is based on the fact that we recognize that every child is an individual with his or her own abilities, opinions, wishes, and interests, and the Montessori method allows for that by giving the child freedom to explore and learn about what interests him. Our Dublin campus has five large, airy classrooms filled with Montessori material from which the child is free to choose whatever interests him.
He can then play and learn about it in his own time. There is no rush. No deadlines. And he is not in competition with anyone else because the other children are exploring different things. He can proceed at his own pace, and when the teacher sees he is ready, will introduce him to further materials.
There is a lot more to the Montessori method than this brief outline which is why we invite all parents for a free school tour to talk to us about their Dublin preschool options and see for themselves.