Choice is an important value in American society. People like to be able to choose and hate to be told what to do.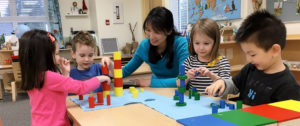 Choice is important for your kids too. At Learn And Play Montessori we are the #1 choice for preschools. Yes, there are other Dublin preschool choices. Yes, there are public options too. But we offer you the choice of Montessori.
One of the very big advantages that we offer – especially over the public schools – is our opening hours. When you have to go to work, which many parents do, you have to wok the hours that your employer tells you to work, otherwise you will be out of a job. If your hours are 9.00 till 5.00 that makes picking up your child from a public school at 3.00 somewhat difficult.
At Learn And Play Montessori in Dublin we open at 7.00am and don't close until 6.30pm which means that WE fit around your hours rather than you having to fit around a school's hours. We provide a range of programs so that we are convenient for you, whatever your hours of work are.
But we believe that the most important of the Dublin preschool choices is the education that your child gets. If you are not certain how the Montessori method works, we would love you to come over and see for yourself.
The Way The Montessori Method Works
Our Dublin preschool has five very large and light classrooms with extended windows to let in the maximum amount of natural light. Each classroom is packed with top class Montessori materials from which the child can choose whatever interests him or her. They can pick up the materials, take them away, play with them, look through pictures in books, and whatever else they want to do. That's right: they make their own choices.
The result of this is that they very quickly start to learn because they are interested in what they are doing, and they WANT to find out more about it. It is not long before each child has learned to love the process of learning for its' own sake. This develops a mind that is inquisitive and wants to find out more for the rest of that child's life.
Our teachers keep an eye on what each child is doing and when the time is right will introduce him to further materials to explore. So instead of sitting listening to a teacher talking, our children learn by using all their five senses.
Feel free to come over to our campus on Silvergate Drive in Dublin and see our children learning for yourself. Then you will understand one of your Dublin preschool choices.