As California begins to re-open, we're excited to be leading the way with best-in-class preschool programs right here in Dublin, California. We're following all state and city guidelines and offer not only in-person preschool but also online/remote learning. Yes, at Learn And Play Montessori you get the best of both worlds with the best preschool in Dublin, CA.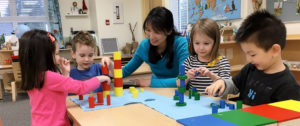 Of course, Covid-19 has hit us all pretty hard, some more than others, but it has particularly hit working parents who have not only had to stay on furlough but have also had to look after/teach their preschool children for the obvious reason that we have not been allowed to open.
We have done everything we can with online teaching where possible, but now, as the best preschool in Dublin, CA, we are back in full flow and can provide parents of preschool children with everything they need.
We offer the Montessori method for one reason and one reason only: quite simply, there is no better way for any child to start on his or her own education than Montessori.
Yes, we are teachers by training and by choice, and we could have gone into the public-school system if we wished. But we very quickly realized that the Montessori method of learning is so far ahead of anything else that we wouldn't dream of starting our children – or anyone else's children – on their educational journey in any other way.
Certainly, the Montessori method has been around for getting on towards a century, but it is still the best. It works because it teaches the children to learn for the love of learning.
How does that work?
It's Pretty Simple
It is actually pretty straightforward. As the best preschool in Dublin, CA, we have a huge range of Montessori materials in each classroom, and we do not tell the children what to learn. We let them explore the classroom and all the various different materials until they find something which catches their eye. Then they can pick up those materials and go and play with them and learn about them, either on their own or with others, as they choose, to their heart's content.
The result of this is that each child is exploring and finding out about something for the very simple reason that he or she wants to learn more about it. And if you want to do something, you will want to do it more.
For instance, if you love scuba diving you will take a scuba diving holiday because you want to. You wouldn't do it if you like mountaineering, just because somebody told you to go scuba diving. You would take a mountaineering holiday. That's exactly how the Montessori method works and is why it works so well.
So if you want to get your child off to the best start, you need the best preschool in Dublin, CA, and that's us at LAPMS!