If you are looking for public Dublin preschools for your child, you are going to be looking for a long time because your options are severely limited. Public preschool serves only a limited number of hours per week; and it's goes offline in the summer. If you need a preschool local to you in Dublin that really works for working parents, that means that you are going to have to go private.There is nothing whatsoever wrong with that, except the fact that many of these private Dublin preschools don't do anything much more than "babysit" the kids while you go to work or whatever. That hardly sets them off on a road of lifelong learning, does it?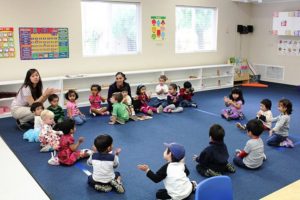 At Learn And Play Montessori in Dublin we are one of the private Dublin preschools, but we do an awful lot more than just babysit the kids. We get them started on the road to a lifetime of learning for the simple reason that they very quickly come to love learning about something new, whatever it may be. This is because the Montessori method works by letting the child find something that takes his or her interest. We treat your child as the individual that he, or she, is, and we never use the "one size fits all" approach because, quite simply, it doesn't.
You might be interested in baseball, whereas it might bore me stiff. I might like to drink wine, where you prefer a beer. You get the idea.
The Children Have A Choice
So at our Dublin preschool we give the children the choice of what they want to learn about. We have a huge stock of Montessori materials in each classroom and the children are allowed to roam the room and pick up this and that and simply find something which catches their eye. When they do, they are allowed to sit and play with it, experiment, explore, and find out about it. If they suddenly decide that it is not that interesting after all, that's fine. They can go and choose something else.
Our teachers, who are all Montessori trained, obviously, keep an eye on the child and see what he is doing. When it seems that the time is right, the teacher will show your child some new materials.
This is totally different from sitting in a class listening to a teacher talking about something which may, or may not, be of interest. Furthermore, there is no rush. Some children learn faster than others and the quick learners are not held back. Equally, those who are slower are not made in any way to feel that they are somehow inferior.
If you are looking for Dublin preschools for your child, we invite you to stop by at our Dublin campus and see for yourself what the children are doing.