Finding the best preschools in Dublin, California, is not the easiest of tasks. You can't really just drive around randomly looking for them. That is even assuming you had the time to do it, and in today's fast-paced world that has become even more difficult.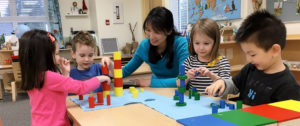 However, what you can do when looking for the best preschools in Dublin, California, is to take a look at the reviews on sites such as Yelp and Google – and guess what? At Learn And Play Montessori we have some truly awesome reviews and we are just so grateful to our parents for all their support.
Not only do we have some truly amazing reviews, but we are also so convenient for commuters up and down the I680 and I580. As you will be well aware, Dublin is on the crossroads between the two highways and Learn And Play Montessori is situated in Silvergate Drive which is just off Dublin Blvd, which in turn is just off the Stonebridge Shopping Center/Safeway intersection of the Arthur H. Breed, Jr Fwy. This makes us ideally placed, because you can drop your child off early in the morning and pick him up again on the way home from work. We are open from 7.00am to 6.30pm. What could be better?
Our campus is open to children from the ages of 2 to 6 years and we provide a year-round Montessori program. Learn And Play Montessori in Dublin has five large airy classrooms which have extended windows, because we believe that natural light gives the best ambience for an environment which is designed to provide the finest academic learning possible.
Each Child Is Respected at Dublin Montesorri
In the Montessori system, each child is respected and provided with all the facilities required to learn at his or her own pace and at the same time choose what to learn rather than having to sit in a classroom listening to a teacher talking. The wide range of Montessori materials is there for him to select the ones which have the greatest interest, and this is one very good reason why our children learn quickly. They are learning because they WANT to learn, rather than learning because they are told to. The difference is almost magical.
There are no deadlines or targets which have to be met, the child learning at his own pace. Therefore, there is no element of competition, because the children are learning different things as and when they choose. However, the quicker learners are not held back, because their teacher watches how they are progressing and introduces new materials and ideas at the right time.
So if you are trying to find the best preschools in Dublin, California, come and take a look at Learn And Play Montessori. We welcome parents to come and see what we are doing.