In the multicultural, diverse Bay Area, we try to expose our children to as many cultural traditions as we can, and especially those that are relevant such as St. Patrick's Day here in Dublin, California.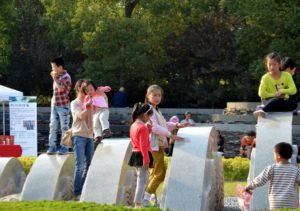 Of course, Dublin is named for the other Dublin, in Ireland, and was founded by two Irish settlers who came to California in 1850, Michael Murray and Jeremiah Fallon, who purchased 1,000 acres of land and built homes for their families.
The two-day Dublin, California, St. Patrick's Day Festival at Dublin Civic Center is one of the biggest on the West coast, drawing up to 80,000 people in to enjoy the Irish entertainment, authentic Irish food and drink, shopping at over 200 vendors booths, and even a pop-up Irish tea cottage.
On Friday evening, The Dublin Sister City Association is running the Green and White Gala which kicks off at 6.00 pm with an Irish Happy Hour, followed by a buffet dinner, and then dancing until 11.30 pm.
Pancake Breakfast In Dublin, California
On Saturday morning, Alameda County Firefighters Local 55 is serving the annual pancake breakfast for which tickets are just $5.00 on the door, and the funds go to help local charities. The kids all love this one, and it's a perfect way to start the day before heading over to the Festival or finding a seat for the Dublin Lions Club Parade.
The Parade starts at 9.30 am and begins at Dublin Boulevard at the corner of Amador Plaza Road. It then goes East on Dublin Boulevard (in the westbound lane), North (left) on to Village Parkway (in the southbound lane), then West (left) on Amador Valley Boulevard (in the eastbound lane) and ends at Donohue Drive. If you can't make it, or just want to see yourself on TV, it will be streamed on TV30 during the week afterwards.
The Shamrock 5K Fun Run & Walk is a great event for runners and walkers of all abilities and takes place on Sunday morning, sponsored by Dick's sporting Goods. Prizes include medallions, and Gift Certificates for Dick's Sporting Goods.
At Learn And Play Montessori we will be telling the kids all about St. Patrick's Day Weekend in Dublin, California, and we will love to listen to their experiences during the following week. No doubt, many of our parents will be taking their kids along to join in the fun, and probably have a glass or three of Guinness themselves!