If you live in Dublin and want to get your child into a Montessori preschool there are actually several Dublin Montessori options. The best of these preschools is Learn And Play Montessori which is at 11900 Silvergate Drive and is not only suitable for Dublin parents but is also convenient for San Ramon, Livermore, Pleasanton, Castro Valley, Hayward, and Sunol as well, with easy access from both the 680 and 580.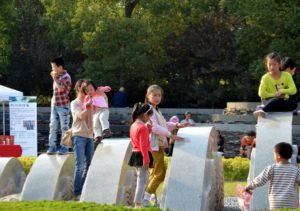 Our state-of-the-art campus is spacious and is open to children from the age of 2 to 6, offering a year-round Montessori program. We are considered one of the best preschool options in Dublin and the best of the Dublin Montessori options in particular. There are five classrooms which have been designed to be large and airy so that the children can move around freely within them, and they have extended windows in order to let in the maximum amount of natural light. There is also a playground which is close to the back of the school and is gated so that the children can play and learn in a safe and secure environment.
In the Montessori method the child learns by doing rather than learning by listening to someone talking. Each of the classrooms in Learn And Play Montessori in Dublin has a multitude of specially developed Montessori materials, and the children have access to everything that they need. The children choose what they wish to pursue and explore rather than being told what to do, and the result is that they very quickly learn to love learning because they are enjoying what they do.
Children Learn At Their Own Pace in a Montessori Preschool
Furthermore, the children proceed at their own pace. There are no targets or expectations. Some children are naturally quick learners while others are slower. Your child is unique, and the Montessori program has been uniquely designed so that your child can experience play, exploration, and interaction with others. We have mixed age groups because this enables younger children to learn from their peers, while the older children underscore what they have learned by explaining it and passing it on to others.
The wonderful range of Montessori materials is available to the children in increments: as the teacher sees the child reach a certain stage, he or she will introduce him to the next stage of materials for him to explore using all five senses. The Montessori method gets children to learn by doing things and interacting with materials and finding out what they do, and also what they may not be able to do.
If you are considering the Dublin Montessori options, we would encourage you to book a tour of Learn And Play Montessori in Dublin and see everything for yourself.