When considering Dublin preschool options parents have quite a choice. Do you want a Montessori preschool in Dublin or would you settle for less? Do you want it near transportation? Do you want to be able to drop your child off on the way to work and pick him or her up afterwards?
Probably one of the best things that you can do is to make an appointment for a school visit, as this way you can see exactly how the children in any particular preschool are being taught. Another thing to do is to read the reviews and see what other parents say.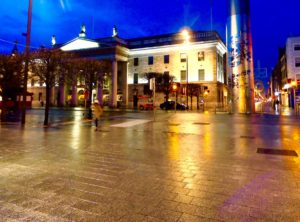 At Learn And Play Montessori we have considerably more reviews than any other preschool in Dublin or nearby, and they are all good, so we feel that we must be doing something right. With a variety of Dublin preschool options from which to choose, we are proud that so many of our parents take the time and trouble to review us on sites such as Yelp reviews of Montessori Schools in Dublin.
Our preschool is right next to the I 680, so is ideally placed for those who have to commute. Whether you live in San Ramon, Pleasanton, Livermore, Blackhawk, Diablo, Tassajara, Brookshire, or Castro Valley, all are within very easy driving distance of our Montessori preschool in Dublin.
Why Montessori?
Why Montessori? The method is based on observing the child and giving him or her choices as to what they study and how they do it. Every child works at his own pace and is working at something that he enjoys, so actually loves what he is doing, rather than having to do exactly the same thing as everyone else under a rigid form of traditional teaching. We like to say that at Learn And Play Montessori our children love to learn. Each child works at his own pace and is not under pressure to get to a certain point at the same time as everyone else. Equally, those who are quick to learn do not get held back.
The Montessori Method completely does away with competition, and there is plenty of opportunity for group work. We find that those who are quicker to learn will often help those who are slower. The method develops the whole personality of the child, not just his intellectual faculties, but his powers of deliberation, initiative, and independent choice. Despite the fact that the child makes his own choices, nonetheless he will attain the same or higher levels of scholastic achievement as those under a traditional schooling system.
So when you are considering your Dublin preschool options, make certain that you visit Learn And Play Montessori and see what we do for yourself.